Ground School App
Our new Flight Training app for the iPad contains the knowledge you need to fly. Experience is the difference.
Get Ground School
Ground School is a complete flight training system built from experience.
Be the PIC of your training
Jason and his team have done an excellent job putting together a top-notch program, and it just keeps getting better! The flight training industry suffers from too many flight instructors that are just focused on building flight time to move on to something else. With this app, you can direct your own training with Jason's expert guidance to achieve success even when your own flight instructor is mediocre. It's like having Jason in the right seat. 🙂
FlywithJim.com, App Store Review, Oct 14, 2021
Pilot Perspective™
All Skills videos are filmed from the design eye height of the airplane.
Our custom made filming setup uses 4 cameras mounted at the design eye height of the airplane. In an age where so many training videos show cameras mounted on the tail and other strange exterior shots, we show pilots exactly where to look to learn the sight pictures they need to succeed. We call this Pilot Perspective™. Your instructor will be impressed.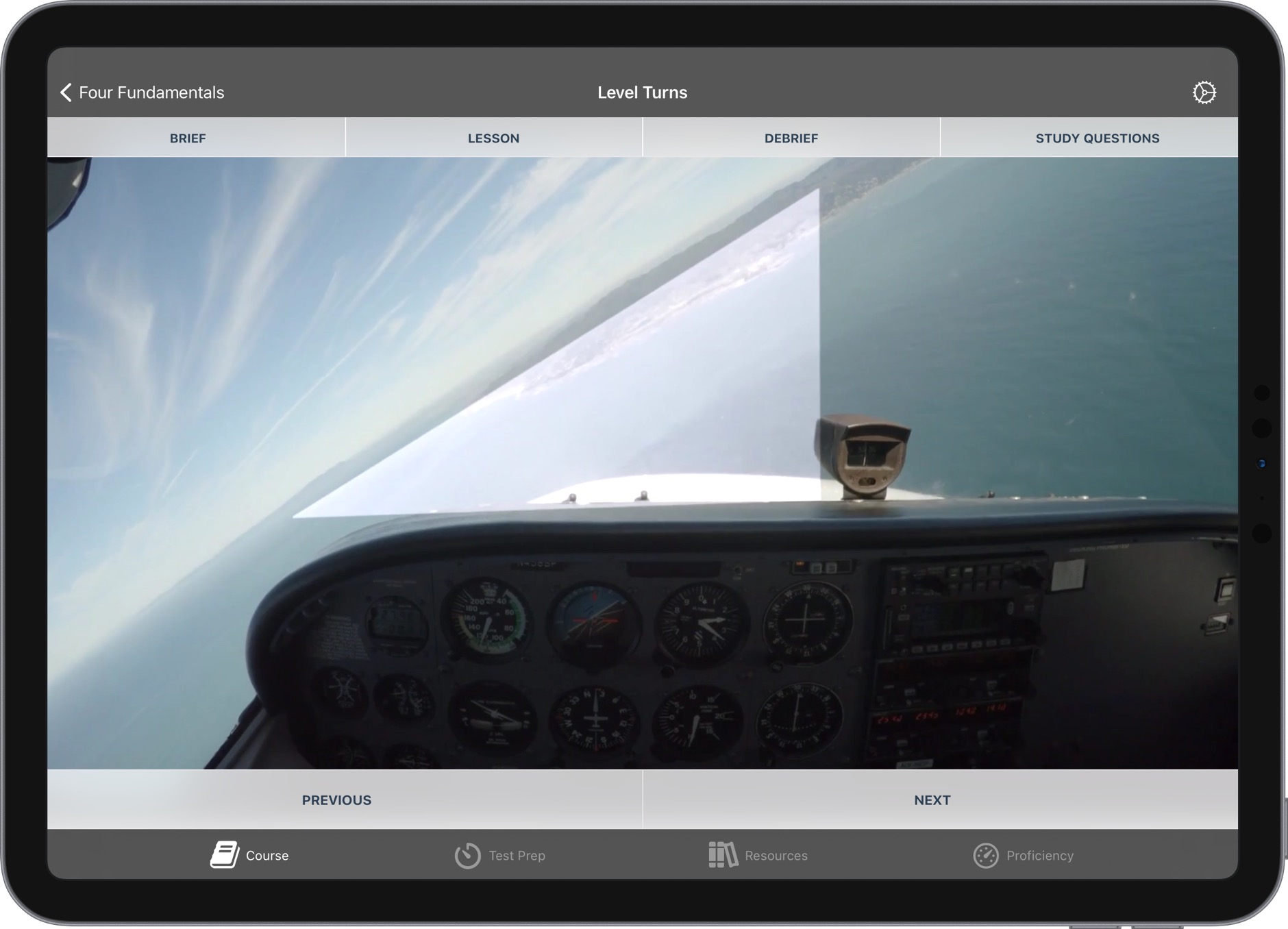 An elegant interface
It's easy to keep track of progress and currency with an intuitive modern design and interface.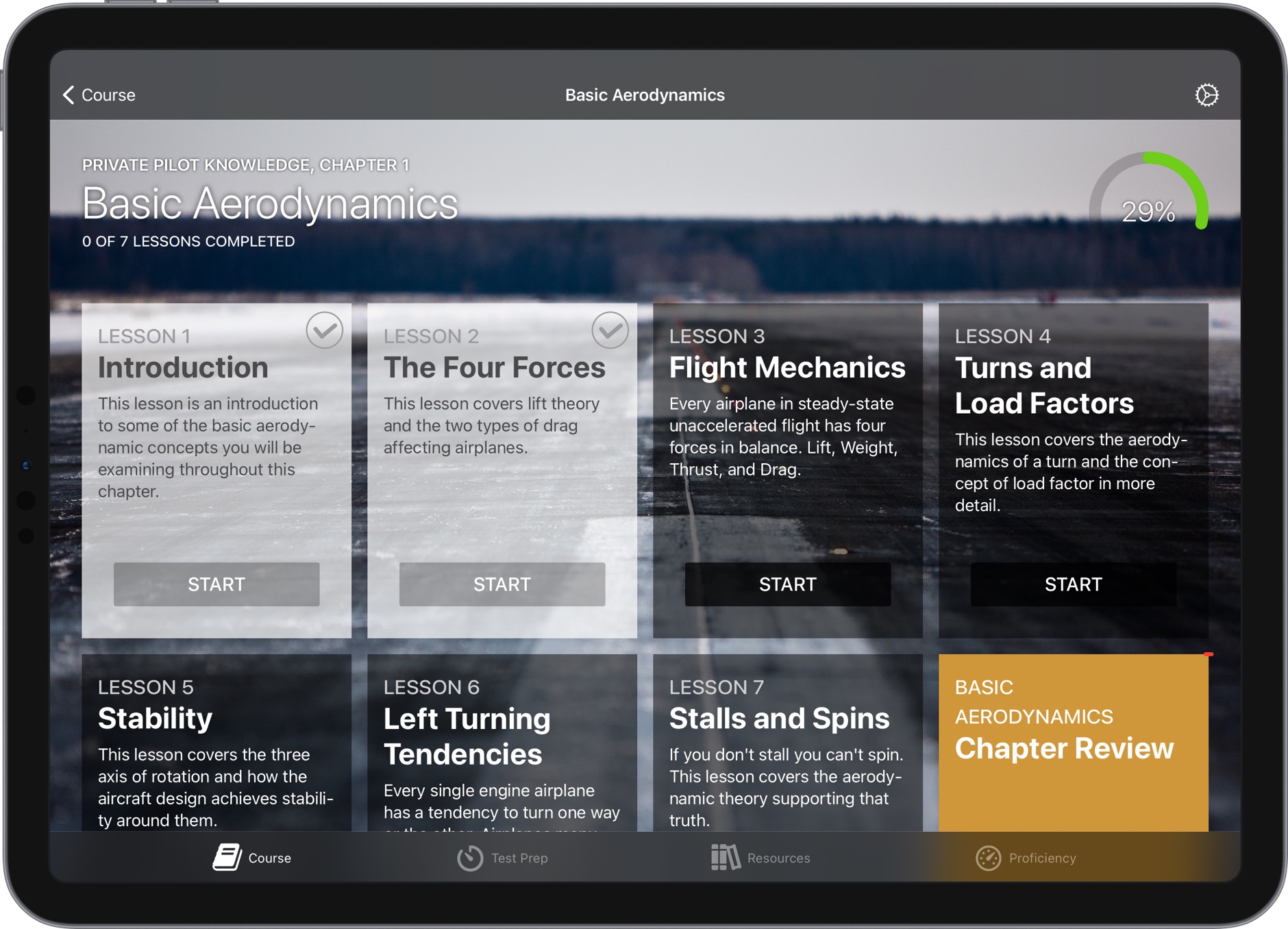 Best Modern Ground School Available
Jason's approach to teaching is so much more than just obtaining your private pilot certificate, he goes above and beyond to bring an added level of safety to general aviation and presents the information in an easy to understand manner. I can hands down say I would rate Jason as good as Rob Reider from the old Sporty's Learn to Fly videos but with a more modern style! I've learned new things from Jason that a half a dozen previous instructors didn't impart on me. Highly recommend, you won't be disappointed!
DragonJCC, App Store Review, Jan 1, 2021
Knowledge Recall™
Knowledge Recall is a form of spaced repetition
Studies have shown that if you can learn something repetitively, as you begin to forget, you will learn more and the knowledge will last longer. Through our Knowledge Recall feature the app will measure your knowledge decay over time and prompt you to take a short quiz as your currency lapses.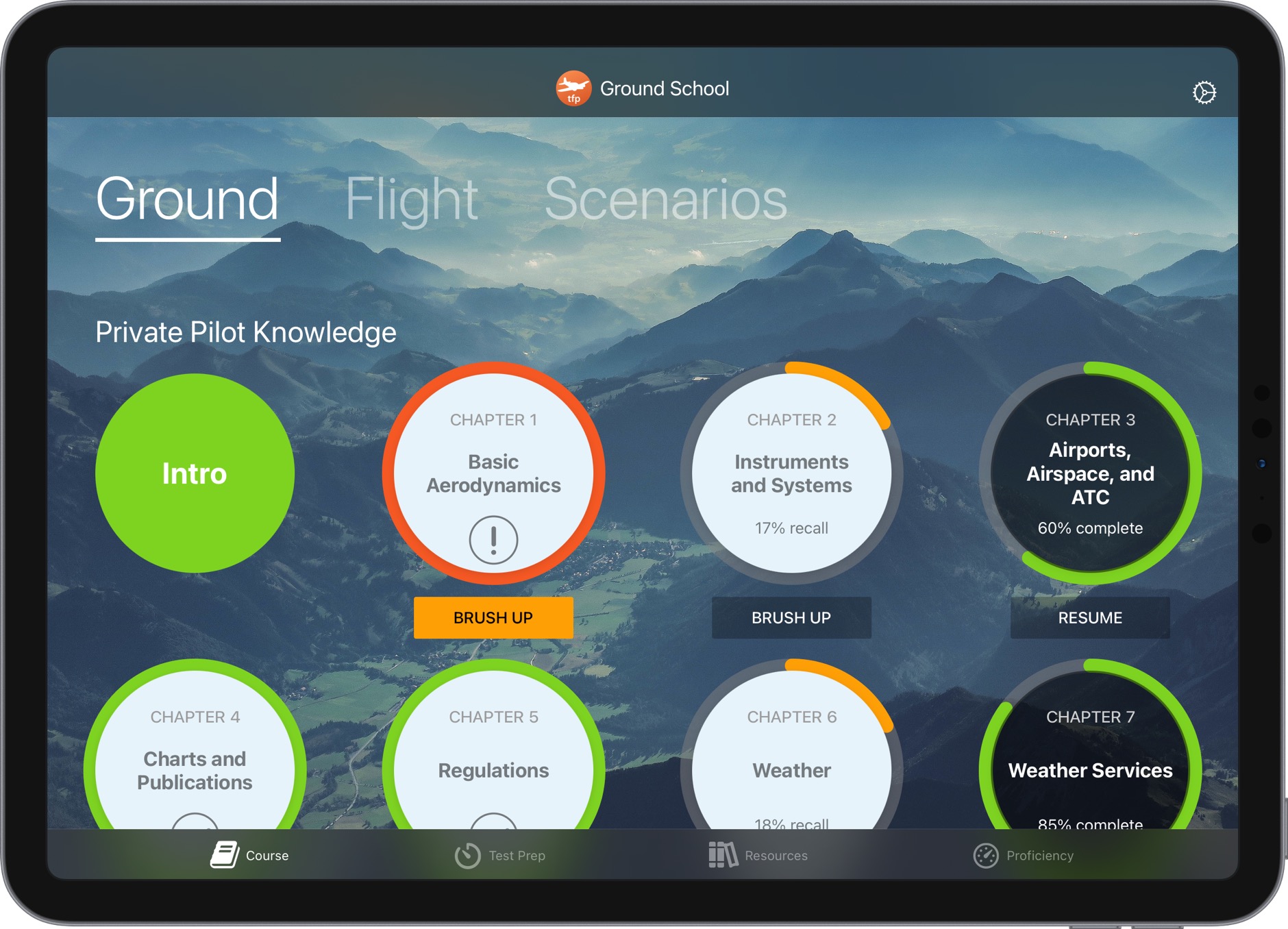 This revolutionary feature will track the time since you've last seen the material, measure your knowledge decay, and prompt you to brush up with a quick review.
Pilot Proficiency Dashboard
The Pilot Proficiency dashboard is designed to distill all your interactions with the app into a single screen showing your strong and weak areas.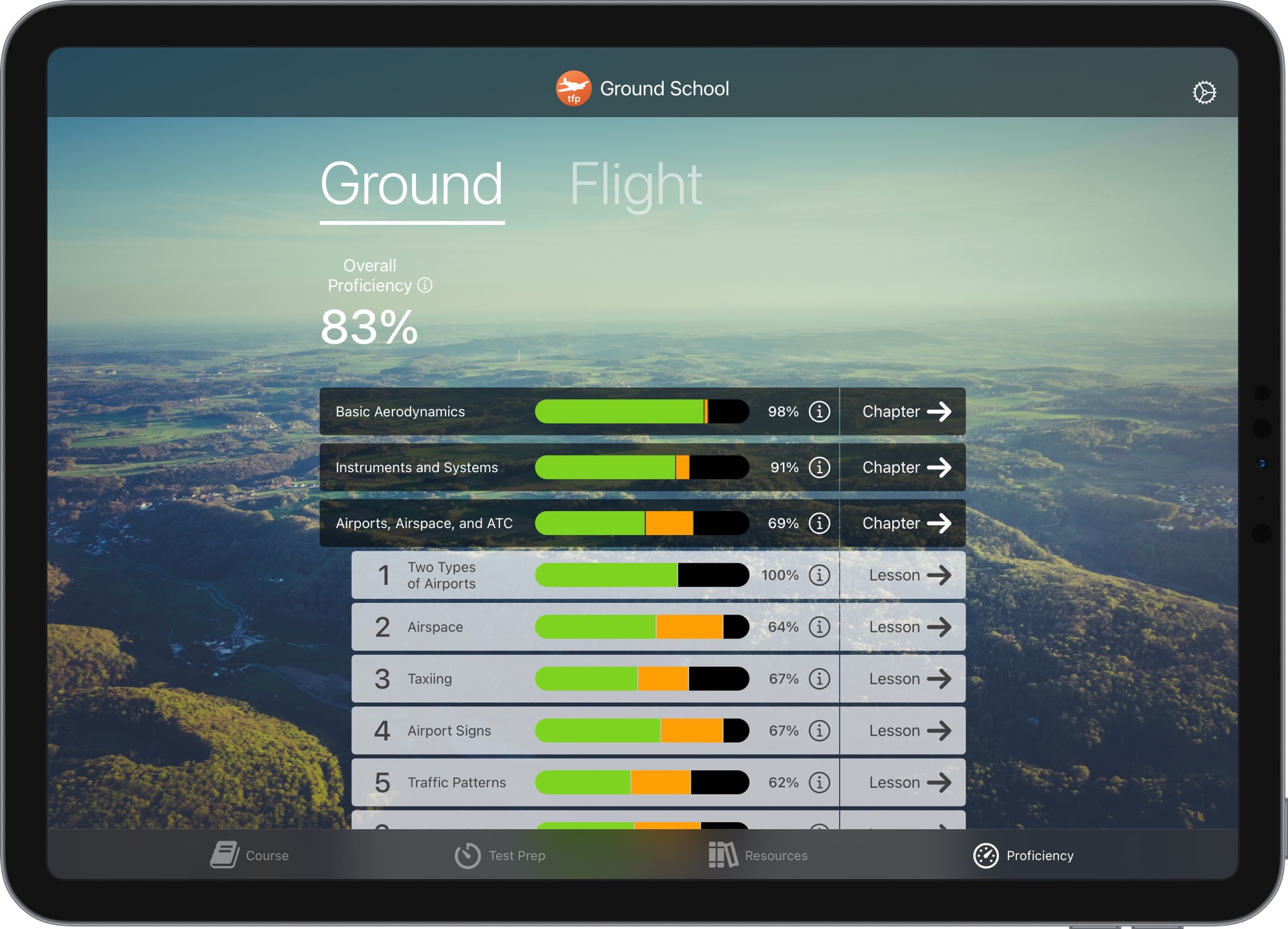 Your proficiency is measured across three metrics: Knowledge, Skill, and Risk. These are the same measurements the FAA uses during checkrides to measure pilot proficiency. Ground School aims to assess your checkride readiness across all three metrics.
Best Ground School
Prior to finding this app, I went through the full Sporty's online ground school as well as the full King's ground school program. This is my favorite due to the app design and interface & learning style (short videos, excerpts from FAA documentation, photos, diagrams, quizzes with good explanations, learning objectives, and follow up).
The app is constantly being updated and improved, and although I passed my knowledge test six months ago (thanks to this app), I've been using the app to stay fresh and continue studying. There's a proficiency section that motivates me to study certain areas, and I use the resource section to make sure that I'm reviewing all FAA documentation.
I like to use the app prior to going out to fly as my personal CFI session, for keeping technique and professionalism sharp.
I've recommended this app to friends going through PPL and they love it as well. Thank you Jason and team for making such a great app!
snowsummer420, App Store Review, 10/17/2021
Experience is the difference.
Ground School will bring you 20 years of expert CFI wisdom. Try it FREE.
Get your free trial
Real Practice Tests
Over 1500 real FAA questions in our database allow you to take UNLIMITED practice tests to measure your performance. We GUARANTEE you will pass your test.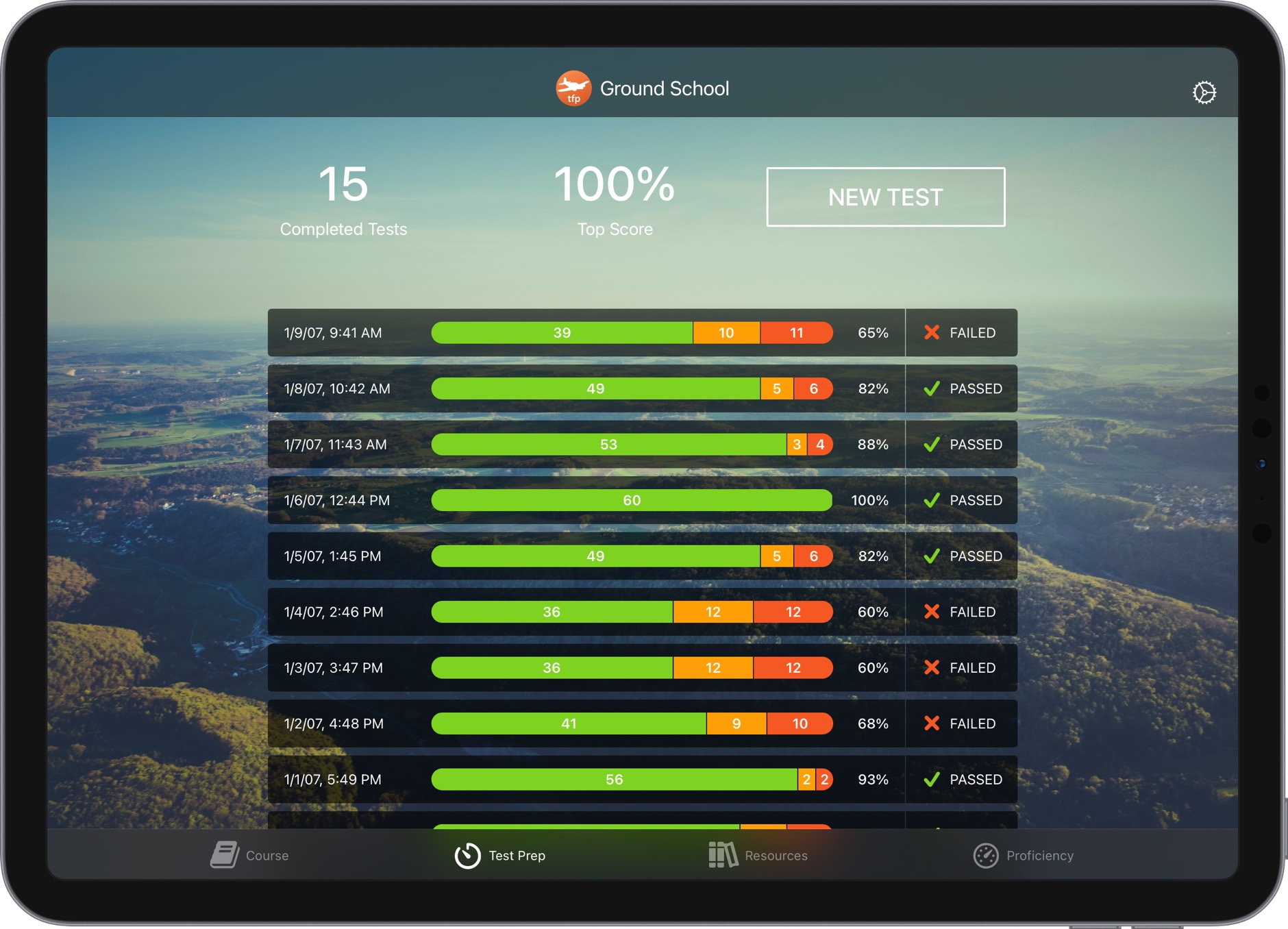 Study your mistakes
After you complete a test attempt you will see which questions you answered incorrectly and now have the ability to see the answer explanation along with a source reference.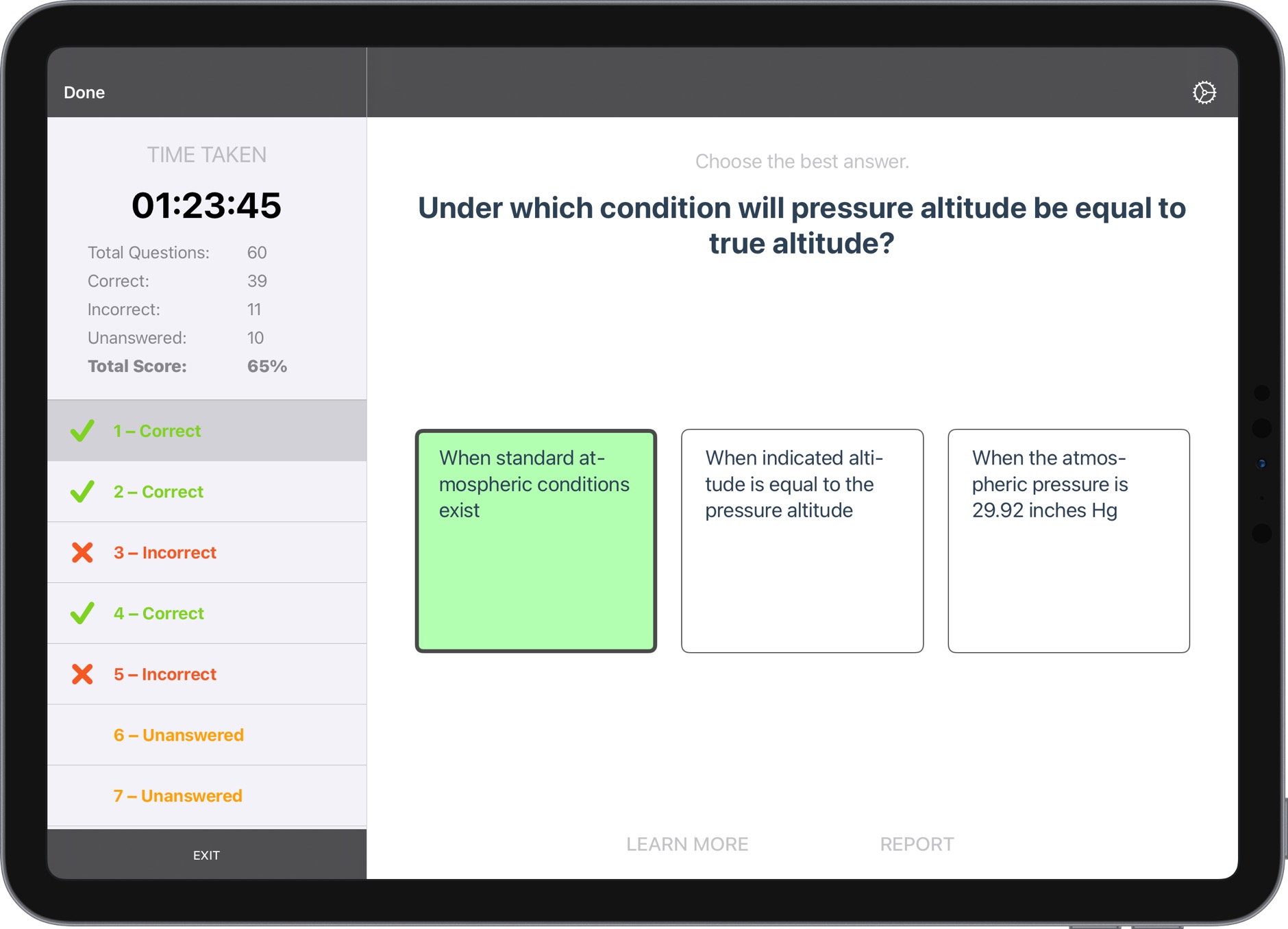 Integrated knowledge and maneuvers
Jason Miller and team have built an amazing different tool that gets you through private pilot and some beyond. It's integrated knowledge and maneuvers, not just knowledge, which really sets it apart. I really like that it delivers Jason's crisp on-point teaching style. No fillers. No artificial ingredients. Packed with quality. The flight demos are excellent because they focus on essentials from the pilot viewpoint in a real world, not overproduced style. Beyond my checkride I have maintained the sub to refer back to keep the knowledge fresh. Highly recommended.
Eastcoast always learning, App Store Review, Dec 22, 2021
Best study tool out there
I'm about 75% through my PPL and just passed my written exam with a 90% all using The Finer Points Ground School app. And now with a check ride on the horizon getting to use the skills portion of the app to see exactly what I need to accomplish to pass it is so helpful. And the team over there is constantly working to add new features and new content so every month it gets better.
alex5000jlkfhjklafsdjhgdhjfads, App Store Review, Apr 25, 2021
Free for CFIs!
Are you a Certified Flight Instructor?
Get free access to Ground School by joining The Finer Points CFI Club!
Learn More
Expert CFI Tips
There are tips peppered throughout the course that help tie the basics in with the practical application of the knowledge in the real world. Experience is the difference.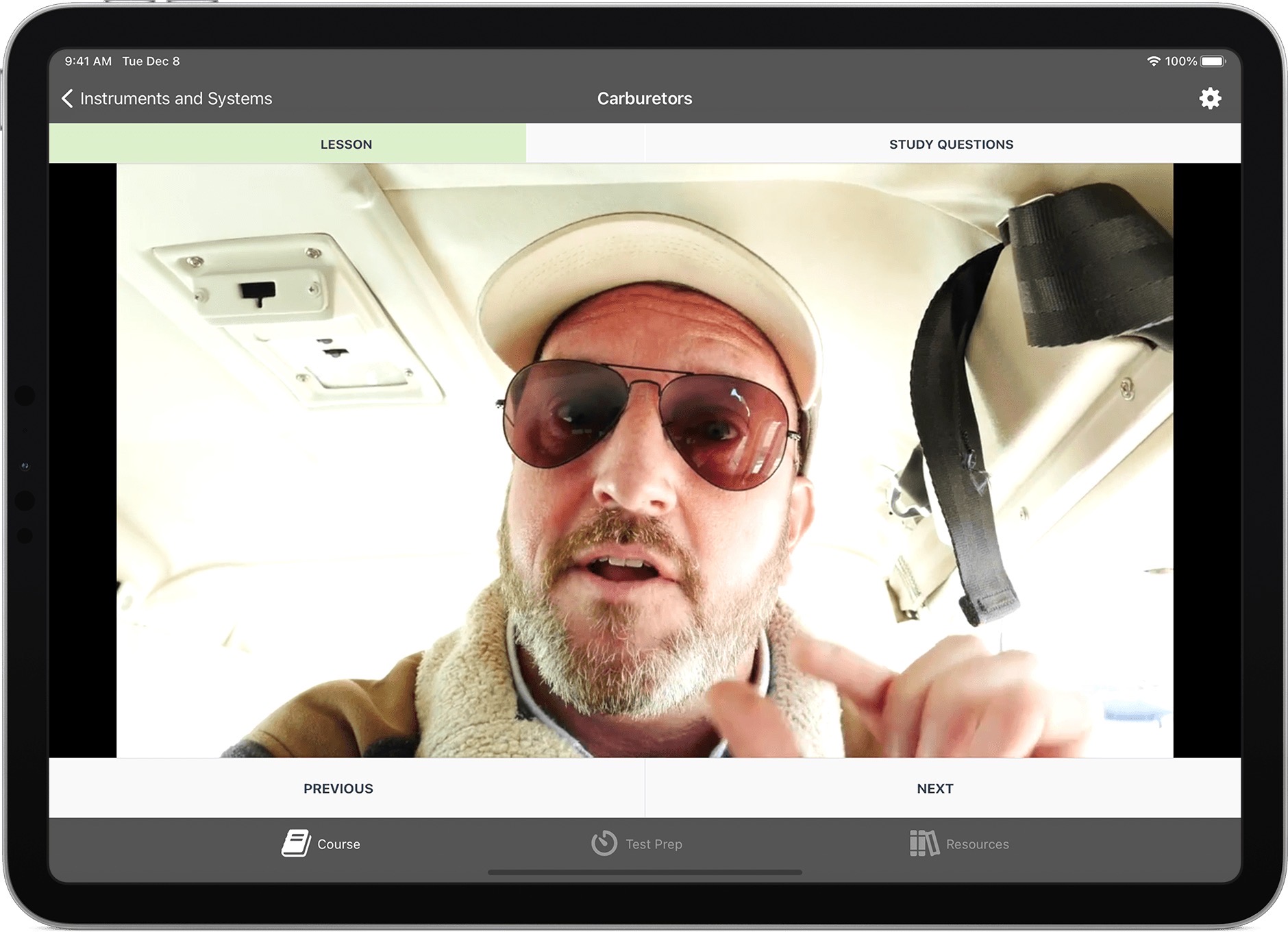 CG animations
For subjects like Airspace and Aerodynamics, a good animation can ensure that you learn it in such a way that you will never forget.
When necessary we use beautiful animations to illustrate complex topics.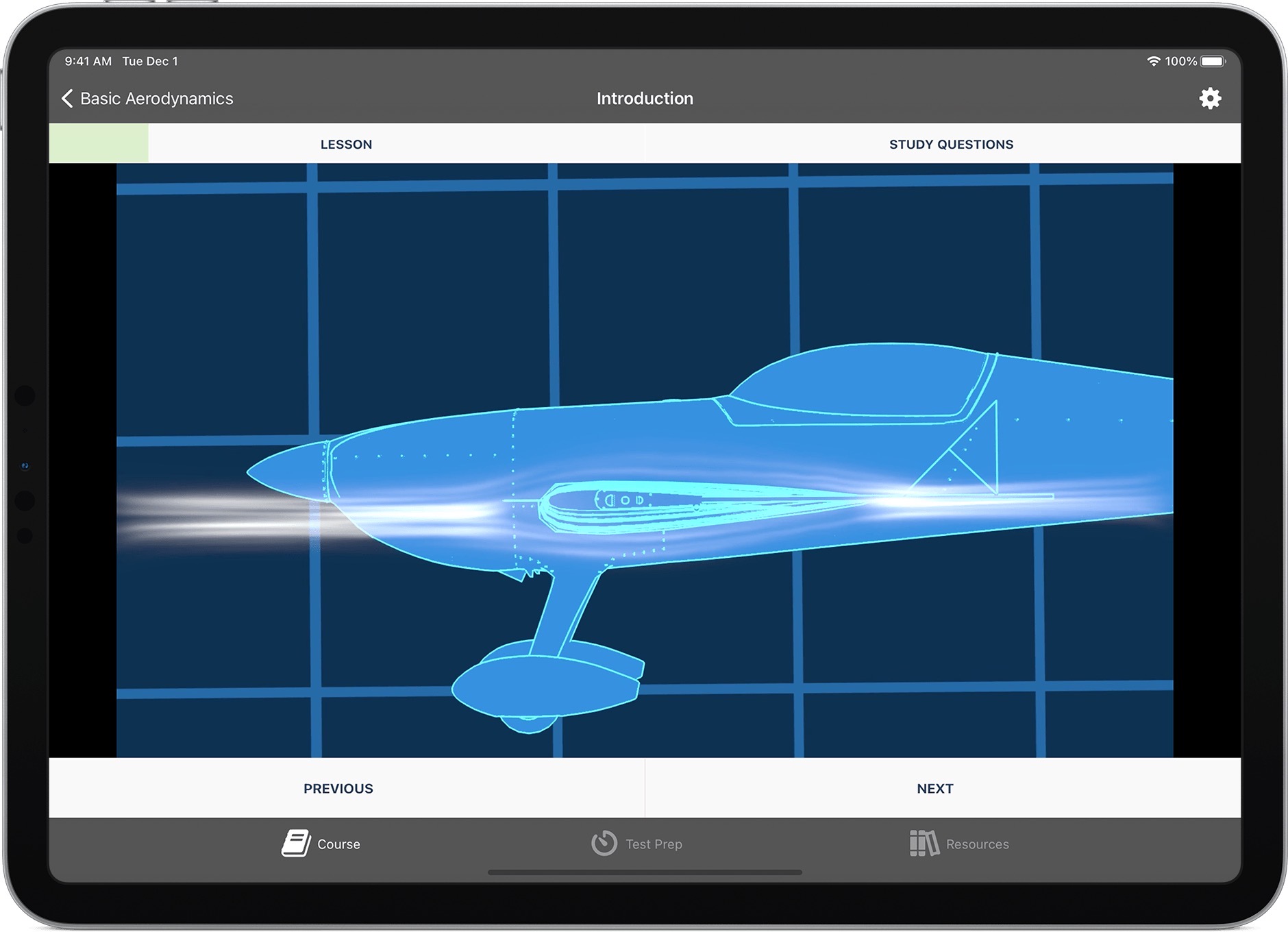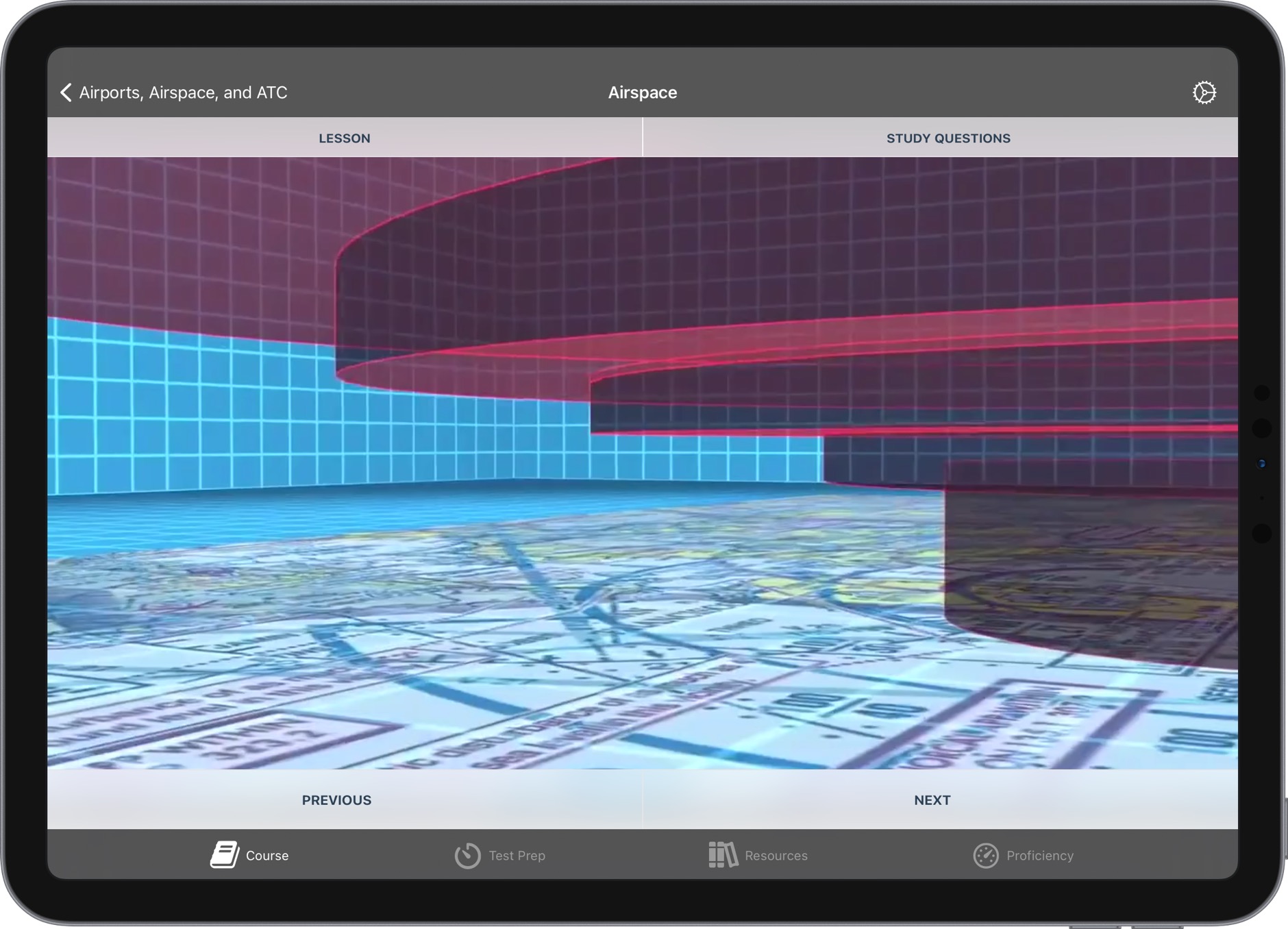 Reference Library
Cross-reference lesson content and question answer explanations to included source FAA reference texts to deepen your knowledge.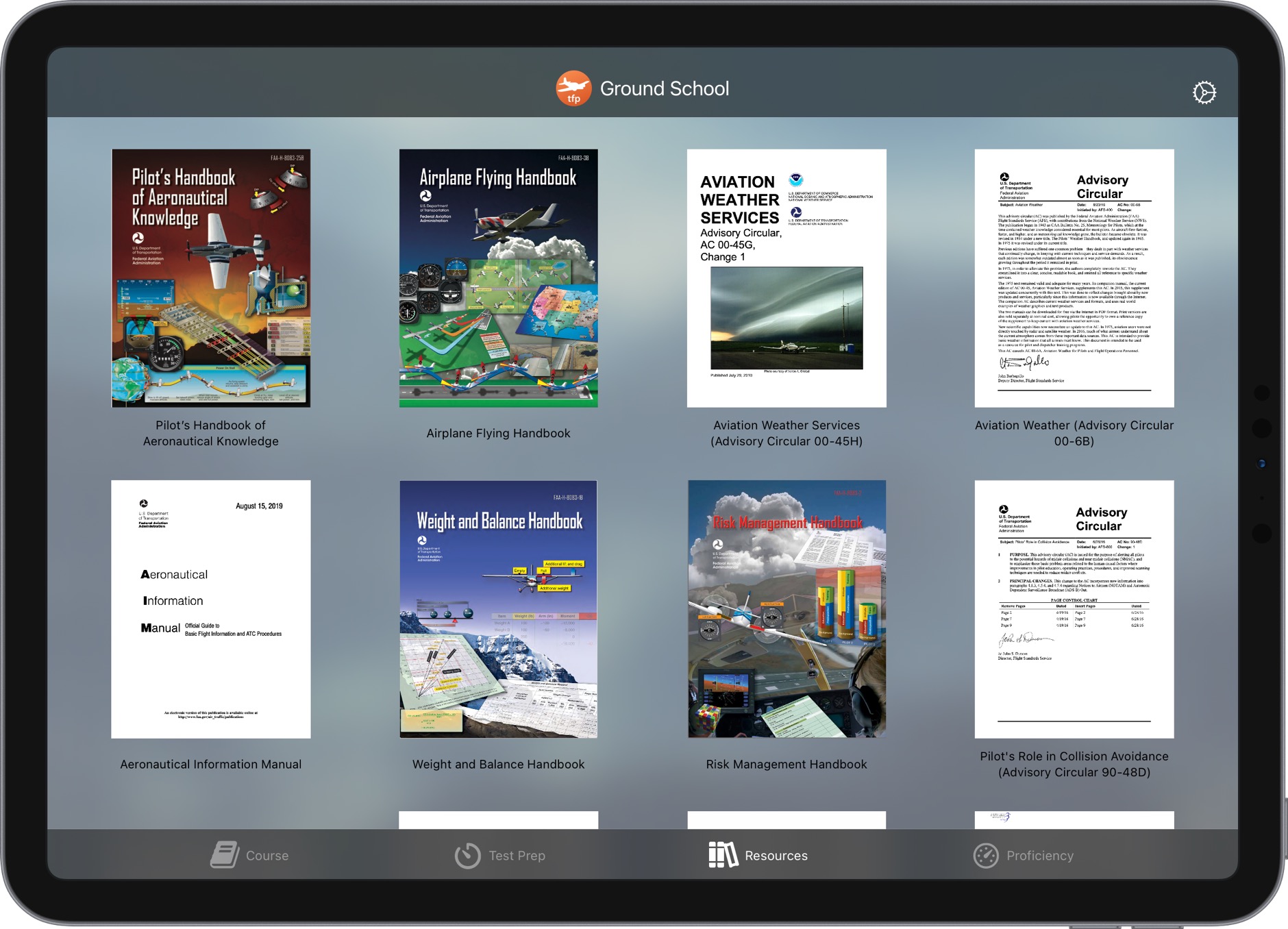 Great online training
This app and whole program was very well thought out. It is very easy to navigate through the different sections and Jason does an amazing job. It really feels like he is talking directly to you like you're one of his students. The support center for this program is also top notch. Every time I have had a question they were to quick to respond in a professional manner.
JT0270, App Store Review, Dec 14, 2020
Excellent app for all pilots
Jason and gang have put together an excellent resource for pilots at all skill levels. One of the best features is they are continually evolving and listening to their subscribers. Looking forward to instrument and other follow on courses!!
mugsaa, App Store Review, 01/14/2021
Great learning tool
This app is a must for all pilots especially student pilots and pilots who want to brush up on their skills. I downloaded the app to enhance my knowledge and skills so I can pass it on to other pilots and my students. It's a great app that continuously gets better and better.
cfi.fly, App Store Review, Nov 15, 2021
97 on the written and I passed my check ride
This is a very well thought out app, which conveys the information in a way that it is easily remembered. I found studying for the written to be more enjoyable in this format than the others I had tried. Well done Jason, can't wait for the instrument course.
777FM, App Store Review, Sep 20, 2021
This is THE app to buy
Sporty's is garbage compared to this app! Jason's videos and approach to teaching provide a hands on, linear approach to beginning flight training with lots of real world tips that are probably better than what you're getting from your CFI.
CBGB79, App Store Review, Sep 4, 2021
Experience is the difference.
Ground School will bring you 20 years of expert CFI wisdom. Try it FREE.
Get your free trial
Ground School improved my test scores
I'm a older student pilot. I've been studying and taking lessons for over a year. After one week with Ground School things are locking in and making sense for the first time. For over a year I've been taking practice knowledge test and never getting above 53%. After my first week of GS I scored a 68%. Jason has a gift of communicating these concepts in a way that stick.
chipflies, App Store Review, Jul 25, 2021
Fantastic
I've been watching Jason on the internet for years and now you can have his easy to understand, thorough instruction at your fingertips. This course is great for new students and certified pilots that want to fill the holes from their primary instruction. New content and improvements are continuously coming. This isn't the typical product out there that gives you rote memorization items for the written, it's meant to actually teach you. This is a great stand alone product or as a fantastic supplement to your flight training. Highly recommended.
Mulac, App Store Review, 06/22/2021
Great way to accelerate your training
This is a great app for new pilots or experienced pilots who need to brush up on their aviation knowledge. As a CFI, I feel the Ground School app is a phenomenal resource to accelerate your pilot training and offers much higher value than traditional knowledge test applications. Traditional knowledge test prep is focused which on rote memorization, but Jason and his team developed a product which will truly help you build the knowledge necessary truly understand the topics. It sounds cliche, but the app is like having 24/7 access to a CFI without the hourly bill.
Tom K, CFI, App Store Review, Feb 2, 2021
Great for pilots at all levels
I used this app extensively preparing for my flight instructor check ride. The app can save you money by being prepared for your lessons and wisely use airplane time for practice and application of the content found in the app.
Clay_Star, App Store Review, Jan 23, 2021
Must Have For Pilots Of All Levels
Looking back on when I started my flight training I wish I had this app. Throughout my training all the way up to CFI I have used several ground school apps, and this is by far the best in terms of understanding. It's difficult to make complex subjects easy to understand, and Jason does a very good job of doing just that. This app is great for anyone just learning to fly or a professional pilot looking to expand their knowledge or review certain topics.
KrisKrimgle, App Store Review, Jan 1, 2021
Excellent home study course
Jason has put together a course full of nice graphics, up-to-date information, and videos that make you feel like you're getting 1-on-1 in person instruction. The presentation is super slick and the information is thorough. As a CFI myself, I will wholeheartedly recommend this app to my students.
soaringandsnatches, App Store Review, Dec 31, 2020
Experience is the difference.
Ground School will bring you 20 years of expert CFI wisdom. Try it FREE.
Get your free trial
Must-have for students!
Some concepts are really hard to understand but this app makes them much easier to understand with better explanations and illustrations than I've found anywhere else. I really wish I had this app when I was studying...now I'm a ground instructor and I use this with my students often and refer everyone to it because it's so well done!
dancerforlife2009, App Store Review, Dec 31, 2020
Great tool for a CFI
The app does a great job of organizing information and keeping track of the student's progress. There's is a well-balanced mix of text and videos catering to different learning styles. Jason and the team at TFP did a good job of hitting the key points of each lesson, having the PHAK available in-app is very useful in case a student wants to dive deeper into a subject. The best part of the app is it's a great way for CFIs to stay sharp as well.
HorizonIntercept, App Store Review, Dec 29, 2020
Great App!
Phenomenal app that not only teaches the basics but expands on them to allow for a better and more in-depth understanding. I love the fact that you not only just read about the subjects but have supporting videos, quizzes and even sources cited! Very well put together and a must for any private pilot student or pilot looking to stay proficient! Let's be honest, even some CFIs could use it! Will recommend to anyone wanting to start flying, currently flying, or wanting to stay proficient.
PNWGadabout, App Store Review, Dec 27, 2020
This is all you need!
The app is very well organized and all resources you need are provided (such as the PHAK, FAR/AIM, etc.) Information is clearly explained and there are valuable illustrations and videos. I have been watching the Finer Points on YouTube for years and this takes it to the next level.
SamV313, App Store Review, Dec 19, 2020
New pilot or refresher, great course!
I just got my CFI renewed after 25 years. During that time I was flying for the military and currently for the airlines. My general aviation skills and knowledge were a bit rusty. This course helped bring me up to speed. I am now teaching my kids to fly and instructing in the local club. This ground school has been the perfect refresher, but it's more than that. It's the complete package. Plus Jason's down to earth instruction sets the standard. And easy to navigate the course.
Dan@UWM, App Store Review, Dec 18, 2020
Great tool for students!
I enjoy using this as a tool to help my students visualize new concepts.
Kyle knows, App Store Review, Dec 15, 2020
Experience is the difference.
Ground School will bring you 20 years of expert CFI wisdom. Try it FREE.
Get your free trial
Simplified easy to understand instruction
Jason has simplified the difficulty of flying into easy to understand segments. Thanks Jason!
AV8R.MAW, App Store Review, Dec 15, 2020
Great!!!
Great app! Love for refreshing my knowledge!
kelly ann cann, App Store Review, Dec 14, 2020
Great App for Self Study
I have been following Jason for many years on YouTube and this app takes that great teaching approach and brings it to your home. I'm an active part time CFI and use the app and videos as part of my students learning process. I will be recommending this app for all new students going forward. Keep up the good work!
comanche250pilot, App Store Review, Dec 14, 2020
Great ground school!
Well organized information and a safety based philosophy that is sure to make me a better pilot
sprocket76, App Store Review, Oct 26, 2020
Having my newest students use this
Very impressed with what I've seen of this so far. I'm starting training with a couple new students this week and am going to have them use this. Much of the core info in any ground school is similar, what really matters is presenting in a way that is simple, logical, and engaging. I think that goal has been absolutely knocked out of the park here.
JacCFI, App Store Review, Oct 24, 2020
Great Ground School
Jason is a top notch instructor, he has a great teaching method, one that is easy to follow and understand. This ground school is unlike any other. It keeps you on a continuous path to learning AND more importantly retaining the information. It's a great ground school and will help anyone achieve their goal to become a safe pilot.
Jdhark, App Store Review, Sep 18, 2020
Experience is the difference.
Ground School will bring you 20 years of expert CFI wisdom. Try it FREE.
Get your free trial
Great App
As a CFI, I'm a big fan of this app from what I've used so far. The videos that go along with the lessons are a huge help to students, and personally I'm a fan of the Standard Operating Procedures section.
B. Clarke CFI, App Store Review, 12/31/2020
I wish I had this as a student pilot!
As a CFI this has been a great tool to use with my students. A lot of my students already watch Jason Miller's YouTube channel but this app organizes the information to get them ready for their checkrides and real world flying. Highly recommend!
Cec3346, App Store Review, 04/10/2021
Best ground school app
By far, this is the most user-friendly and comprehensive ground school in the market. Theory is perfectly integrated with supporting videos and visual aids to help the student understand complex concepts with ease and with total clarity. Practice tests come with complete explanations of questions and are set up in a way that provides great help in the learning process. The design is very friendly and the lessons flow with ease, building from the very basic to more advanced topics. Kudos to Jason and his team!
Gsffgfdf, App Store Review, 02/09/2021
Like having your own CFI at home
This is the only ground school app I've seen that makes you feel like you are receiving one-on-one flight instruction. It has so many high-tech graphics and illustrations to go with it. Jason has a laid-back, personal approach, yet is very thorough and takes each module very seriously. This ground school will prepare you for your written exam or checkride, but most importantly to be a safe pilot.
Shafiator, App Store Review, 10/19/2020
Hands down the best
I am a current CFI teaching at all levels of instruction and this app is the best I have seen. Very well laid out and presented in a way that makes sense. This should be included in any student pilot's arsenal.
Mike1724, App Store Review, 12/15/2020
It's like receiving one-on-one instruction.
It's like receiving one-on-one instruction while being socially distant. All the goodness without the masks. Jason's style is thorough and personable without an excess of "there I was at 2,000 feet" personal anecdotes. And it plays well on the iPad.
DaveBCalifornia, App Store Review, 12/15/2020
Experience is the difference.
Ground School will bring you 20 years of expert CFI wisdom. Try it FREE.
Get your free trial
Highly Recommended
I have always used TFP YouTube videos to aid in instructing my students, but this takes instructing to a whole new level! As a CFI/CFII I have been given the honor of testing a beta version of this app and Jason has nailed it! The format being broken down into lesson plan style is extremely helpful. I will be a Ground School user for as long as I can be!
Semper Humilis, App Store Review, 11/14/2020
Outstanding Ground School & Skills
Wow! If you're looking to truly get ahead of the pack, you need this Ground School app that Jason has put together.
The content contained in the app is great for students or current pilots alike. This will likely be the best investment you make on your journey to becoming a private pilot.
Ifffkfvkiflrkdcujvvvj, App Store Review, 10/25/2020
Great tips!
Great info makes me a better pilot 😊
Heyitsalliiee, App Store Review, 07/26/2020
Amazing quality!
Jason is one of the experienced instructors, sharing a lot of useful insights. I'm a CFI/CFII/MEI and I'm still learning from him. This is definitely a resourceful app for your training. Not only does he provide the knowledge, but also the insight gained by flight and teaching experience which is extremely valuable. The material is well organized and explains with his own words. The best part is the skill part, since most of the instructors are new because after they get the 1500 they always move on to the airline, so it's really a good idea to learn from one who has more experience. Jason will be your pick!
JFK cab, App Store Review, 10/19/2020
Quality Instruction at Its Best
Jason is one of the best CFIs around. His ability to explain complex information in an easy to understand way is top notch. It's clear that this is the result of his many years of instruction. Thanks, Jason, for helping me to fly my best.
Larry Leads, App Store Review, 05/02/2020
Great App for student or licensed pilot!
I wish this was around when I did my PPL. I don't think anyone (student or pilot) could go wrong with utilizing this app to its fullest potential and with one of the best long-time active CFI's in the right seat… it's a no brainer.
outnside, App Store Review, 04/14/2020
Experience is the difference.
Ground School will bring you 20 years of expert CFI wisdom. Try it FREE.
Get your free trial
A great way to self-study for the FAA written!
Jason Miller of TFP turns on the afterburners with this new ground school study option! Fantastic visuals and animations, coupled with clearly written material vetted by multiple active CFIs. Get this app, and pass your test or refresh for an upcoming Flight Review!
TXPilot69, App Store Review, 04/13/2020
Like having your own CFI at home
This is the only ground school app I've seen that makes you feel like you are receiving one-on-one flight instruction… it has so many high-tech graphics and illustrations to go with it.
Shafiator, App Store Review, 10/19/2020